by Alessandro Giulio
INTRODUCTION
What is understood by the term 'interaction' in the context of landscape? We could essentially argue that we interact with nature every time we find ourselves in open landscapes. As true as that may be, we have grown accustomed to our very own changes in nature when we built bridges to cross rivers or built tunnels to cut through mountains. When was the last time you swam across a river or hiked over a mountain? The idea of doing so is quite impractical to most and thats understandable. In a sense, we have forgotten the true interactions between us and landscape.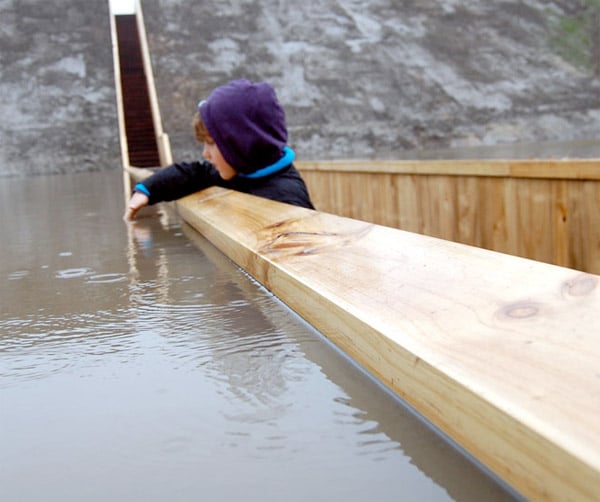 THE MOSES BRIDGE
Originally dating back to the 17th century, the West Brabant Water Line served as a defensive moat until the 19th century. Located in Halsteren, the Netherlands, the West Brabant Water Line offered the first line of defense for several fortresses. In 2011, architects at RO&AD unveiled their restoration of the West Brabant Water Line bridge. Unlike our preconceived idea of the bridge, RO&AD designed a bridge to cross the West Brabant at the waters edge. The Moses Bridge, as RO&AD called it, allows for visitors to traverse the West Brabant on their way to Fort de Roovere. Presently, the Fort de Roovere hosts recreational grounds for cycling and hiking in Halsteren.
SENSORY
The Moses Bridge is, without a question, a sensory experience between user and nature. The project's concept is as awe-provoking as its execution. The Moses Bridge was carefully designed to maximize sensory experience and minimize strain on natural impact. From a distance along the banks of the West Brabant, the Moses Bridge is practically immersed within the landscape. Upon crossing, RO&AD continue to inspire the sensory journey across the West Brabant. The width of the Moses Bridge is wide enough to suggest the importance of individual experience. The Moses Bridge gently steps along with the existing sloping terrain. A rich contrast in materiality marks the division between design and nature. Along the entire length of the Moses Bridge, you move leisurely with the earth and waters edge at arms reach.
PRACTICALITY
Perhaps an equally inspiring feature of the Moses Bridge is the execution of the project itself. There are reasons why this sort of 'bridge' isn't done so often. As suggested before, the width of the Moses Bridge is small enough for 'two-way' traffic, a ideal reason for reducing the amount of excavation of earth. The stepping portion of the Moses Bridge is designed so that there is never a loss of connection to the ground plane at your arms reach. The Moses Bridge is predominantly constructed of Accoya wood and that when treated with a non-toxic anti-fungal coating is far more durable than most tropical woods. The entire stretch of the Moses Bridge is designed with pure forms and minimal variety of materials. From one side to the other, connection between earth/bridge and water/bridge is warmly complimented by selected materiality.